As the monsoon season arrives, car owners need to be prepared for the challenges it brings. And mere car washing services won't do. Reduced visibility and slippery road conditions demand extra caution while driving in the rain. To ensure your safety and preserve the longevity of your vehicle, proper car care during the monsoons is of utmost importance.
At CarzSpa, we understand the significance of car care in monsoons. That's why we offer comprehensive car detailing services in India, including specialised treatments like Anti-glare Treatment and Windshield Nano Coatings. These treatments are designed to enhance visibility and protect your windshield, providing a safe and enjoyable driving experience during the monsoons. Read on to know why you need to protect and care for the most exposed part of your car during the rain as we have some car care tips for monsoon.
Visibility issues in general and during monsoons
Driving in challenging weather conditions, including heavy rainfall and fog, can pose visibility issues for car owners. Not only do water splashes from other vehicles obstruct our view, but the windshield's clarity is also hampered by the accumulation of dirt, grime and water spots. Pollution and everyday wear and tear can further contribute to scratches and swirls, exacerbating the problem. To ensure optimal visibility, it is essential to prioritise car care in monsoons and all year long.
When it comes to ensuring better visibility on the road, treating your windshield with a rain-repellent solution is essential. This specialised treatment forms a protective barrier that helps prevent the buildup of dirt, water spots and other contaminants on the glass surface. At CarzSpa Detailing Studios, our experts excel in providing windshield protection solutions like Anti-glare Windshield Polishing and Nano Coating for Windshields that enhance visibility, especially during heavy rain.
With our expertise and advanced techniques, we help ensure that your windshield remains clear and free from obstructive elements. CarzSpa Detailing Studios also offers various other forms of car care for all seasons, including comprehensive car detailing services and installation of the best paint protection film in India.
Anti-Glare windshield polishing
At CarzSpa, we offer a windshield cleaning and polishing treatment that effectively eliminates hard water spots and contaminants. This enhances visibility and ensures a safer driving experience, especially during bad weather.
Our professional car care in monsoon focuses on removing the build-up of dust, carbon emissions, smog and hard water scaling from your windshield. With our meticulous cleaning and polishing techniques, we restore clarity to the glass, improving daytime and nighttime visibility. We use a special cerium oxide-based compound and a special polishing pad to remove swirls, scratches and carbon deposits from the windshield. The treatment also incorporates anti-glare properties, reducing the impact of oncoming headlights and minimising distractions for a smoother drive.
By following car care tips for monsoons and availing of our windshield cleaning and polishing service, you can enjoy a clearer view of the road, reducing the risk of accidents caused by impaired visibility.
CarzSpa's Nano Coating for Windshield offers reliable car care in monsoons, to combat rain and pollutants. Applying this advanced coating forms a robust protective layer on your glass fittings, delivering exceptional water-repellent properties.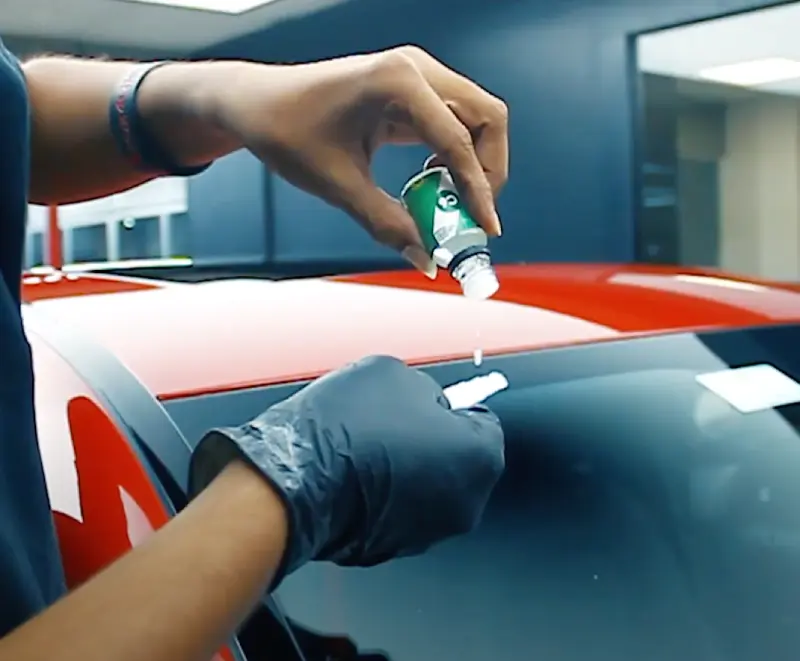 During the rainy season, the Nano Coating repels dirt particles and water, significantly improving visibility and preventing unsightly watermarks and stains. Its hydrophobic properties ensure raindrops effortlessly roll off the surface, leaving behind a crystal-clear windshield, even while the car is moving at the speed of 60 kmph. This means you can enjoy an unobstructed view of the road ahead, even amidst heavy downpours.
Our car care tips for monsoons include investing in windshield protection and our Nano Coating is designed precisely for that purpose. By shielding your windshield with this innovative solution, you can navigate through rainy weather with confidence, knowing that your visibility remains uncompromised.
Other services that can be availed
Enhancing visibility and protecting your car's windshield is a part and parcel of car detailing and car paint protection services in India, especially during the monsoon season. Car detailing encompasses
CarzSpa's premium Detailing Services
Intensive interior cleaning

Engine & interior dressing

Ozone air purification treatment

Leather conditioner treatment

Anti-Glare windshield polishing

Water spot removal on all glasses
This comprehensive cleansing and protection process is for both the interior and exterior of your vehicle. It enhances the visual appeal of your car and also acts as a shield against the detrimental effects of moisture, dirt and pollutants. Optimal car detailing during the monsoons plays a crucial role in preventing rust, paint damage and the growth of interior mould.
To ensure your car remains in top-notch condition, consider professional car interior cleaning services in India and the best ceramic coating for cars at any of the 85+ CarzSpa Detailing Studios. Thorough cleaning of the interior removes any moisture or dirt that may have accumulated, minimising the risk of mould growth and unpleasant odours. Additionally, specialised services tailored for the monsoons can effectively eliminate mud, grime and road debris from the exterior, protecting the paint and minimising the potential for corrosion.
During the monsoon season, prioritising car care is crucial to ensure safe and enjoyable driving experiences. Anti-glare windshield polishing and windshield nano coatings play a vital role in enhancing visibility and protecting your windshield. Get your beloved car detailed at your city's nearest CarzSpa Detailing Studio. Or you can email us to get the costs for complete car detailing and ceramic coating car cost before you bring your car to the studio.
Frequently Asked Questions
1. What are the benefits of anti-glare windshield polishing?
Anti-glare windshield polishing improves visibility during the night, reduces glare from headlights and removes hard water spots and contaminants for clearer glass during the rain.
2. How does windshield coating help during the monsoons?
Windshield coating provides a water-repellent layer that repels dirt particles and rainwater, ensuring better visibility and preventing watermarks and stains on the glass.
3. Can glass treatments be combined with other car detailing services?
Absolutely! CarzSpa offers comprehensive car detailing services and graphene ceramic coating services for providing complete protection and care for your vehicle.
4. What do detailers use to clean glass?
Professional car detailers prefer using a range of microfibre cloths of various sizes to clean the car glass to prepare it for further glass treatment. There are some specialised detergents too, which help remove the dirt and grime from the glass surface.
5. Are water spots permanent on glass?
These deposits can be easily removed initially, but if left unattended, prolonged exposure to the sun will cause them to fuse with the glass surface. This makes the hard water spots difficult to remove and can lead to permanent damage to your windows if not addressed promptly.
6. Can we remove scratches from the windshield?
Yes, we can remove scratches up to an extent using special cerium-based compounds, pads and polishers.